X-NUCLEO-IDB04A1, Bluetooth low energy expansion
91445
Produtos totales: 1903596
Ventas totales: 2239249
Average lead time: 38.71 Hour
Delivery times (Express): 46335
Delivery times (Post office): 8113
Ventas0
Ofrecemos productos de alta calidad, servicios pensados en el cliente y garantía post-venta
Tenemos productos de calidad que se ajustarán a sus necesidades.

La cantidad mínima del pedido es de una pieza y el valor del pedido debes ser superior a 10.00$US

Los envíos internacionales más baratos, comienzan en 2.00$US (para direcciones registradas)

Garantía de calidad de 60 días en todos los productos
Una gran variedad en nuestro inventario, puede encontrar cualquier componente electrónico de las principales empresas del mundo
Variedad de métodos de pago
Variedad de opciones logísticas, rápidas y baratas
USA / Canada / Mexico

Europe

Australia / New Zealand

Asia

$ 20.00 $ 25.00 $ 22.00~ 25.00 $ 18.00~ 22.00
$ 2.00 $ 4.00 $ 4.00 $ 4.00
Fedex gratis para pedidos superiores a $69.9/ $99.9
Correo postal gratis para pedidos superiores a $19.9
Utsource es una plataforma online de componentes electrónicos de todo el mundo que reúne a muchos proveedores increíbles. Utsource ofrece un servicio FBU (Fulfillment by Utsource), un servicio integrado para usuarios SME (Small and medium enterprises). Características gran efectividad, muy rápido, seguro y conveniente.
Eficiencia alta
Velocidad alta
Seguridad
Conveniente
X-NUCLEO-IDB04A1, Bluetooth low energy expansion board based on BlueNRG for STM32 Nucleo
Description
The X-NUCLEO-IDB04A1 is a Bluetooth low energy evaluation board to allow expansion of the STM32 Nucleo boards.
It is compatible with the Arduino UNO R3 connector layout, and is designed around BlueNRG, a Bluetooth low energy, low power network coprocessor compliant with BTLE 4.0 and the BALF-NRG-01D3, an ultra miniature balun optimized for ST BlueNRG RF IC, which integrates matching network and harmonics filter. The X-NUCLEO-IDB04A1 interfaces with the STM32 MCU via SPI pin, and the user can change the default SPI clock, the SPI chip select and SPI IRQ by changing one resistor on the evaluation board.
The excellent performance of BlueNRG and the best matching between BlueNRG and BALF-NRG-01D3, X-NUCLEO-IDB04A1 passed the RF TEST for Japan Radio Law certification with higher margin above the specification values as well as it is FCC certified (FCC ID: S9NIDB04A1).
Key Features


BlueNRG low power, low energy Bluetooth network coprocessor


BALF-NRG-01D3 balun & harmonic filter


Free comprehensive development firmware library and example for BlueNRG, compatible with STM32Cube firmware


Bluetooth low energy 4.0 master and slave compliant


Compatible with STM32 Nucleo boards


Equipped with Arduino UNO R3 connector


Very low power consumption: 7.3 mA RX and 8.2 mA TX at +0 dBm


Maximum transmission power: +8 dBm


Excellent receiver sensitivity (-88 dBm)


X-NUCLEO-IDB04A1 is FCC certified (FCC ID: S9NIDB04A1)


X-NUCLEO-IDB04A1 is officially certificated as a BTLE 5mW module for Japan Radio Law "TYPE" Certification by Japan government


RoHS compliant


Photos
What's Onboard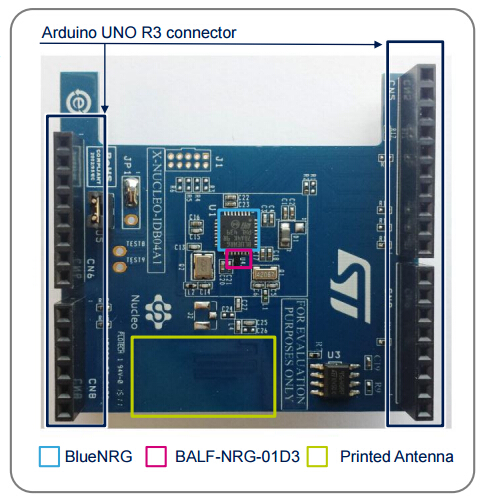 Application Diagram
Working with an STM32L MCU :

Development Resources


User manual


Schematic


Demo code


Development software


Wiki : www.utsource.net/wiki/X-NUCLEO-IDB04A1
Spain

quality components, competitive prices, prompt deliveries, excellent value for money, great customer service, I am delighted to be working with utsource, Thanks

RJH60F7,S8550,S8050,G40N60B3

Chile

Llegó el producto solicitado. Ahora a probarlo. Hasta ahora todo bien.

FQA13N50CF

Slovenia

Everything perfect!!!

QM75DY-H

Bolivia

Fast shipping and good ic thanks . Utsource

APIC-S03,L9762-BC,L9302,TLE4268G,TLE4267G,LM293,LMB1028S,BTS113A
Método de pago
Método de pago internacional
Paypal US $0.00

Credit Card US $0.00

Amex US $0.00

Wire Transfer charge US $15.00 banking fee.

Moneygram US $0.00

Western Union US $0.00
Método de pago europeo
Sofort US $0.00

Eps US $0.00

Sepa US $0.00

onlinebetalen US $0.00

Bancontact US $0.00

Mybank US $0.00

YandexMoney US $0.00

QIWI US $0.00

WebMoney US $0.00

Dotpay US $0.00

P24 US $0.00

Payu US $0.00

Turkish Credit Bank Card US $0.00
Método de pago americano/asiático
Boletol US $0.00

Itau US $0.00

OXXO US $0.00

Banamex US $0.00

Bancomer US $0.00

Santander US $0.00

Spei US $0.00

Paytm US $0.00
Embalaje
Paso1:Productos

Paso2:Ponerse en el tubo

Paso3:Embalaje antiestático

Paso4:Caja de embalaje

Paso5:Etiqueta del código de barras del transporte