X-NUCLEO-IKS01A1, Motion MEMS and environmental sensor expansion
91445
Produtos totales: 1903595
Ventas totales: 2239249
Average lead time: 37.93 Hour
Delivery times (Express): 45770
Delivery times (Post office): 8111
Ventas1
Ofrecemos productos de alta calidad, servicios pensados en el cliente y garantía post-venta
Tenemos productos de calidad que se ajustarán a sus necesidades.

La cantidad mínima del pedido es de una pieza y el valor del pedido debes ser superior a 10.00$US

Los envíos internacionales más baratos, comienzan en 2.00$US (para direcciones registradas)

Garantía de calidad de 60 días en todos los productos
Una gran variedad en nuestro inventario, puede encontrar cualquier componente electrónico de las principales empresas del mundo
Variedad de métodos de pago
Variedad de opciones logísticas, rápidas y baratas
USA / Canada / Mexico

Europe

Australia / New Zealand

Asia

$ 20.00 $ 25.00 $ 22.00~ 25.00 $ 18.00~ 22.00
$ 2.00 $ 4.00 $ 4.00 $ 4.00
Fedex gratis para pedidos superiores a $69.9/ $99.9
Correo postal gratis para pedidos superiores a $19.9
Utsource es una plataforma online de componentes electrónicos de todo el mundo que reúne a muchos proveedores increíbles. Utsource ofrece un servicio FBU (Fulfillment by Utsource), un servicio integrado para usuarios SME (Small and medium enterprises). Características gran efectividad, muy rápido, seguro y conveniente.
Eficiencia alta
Velocidad alta
Seguridad
Conveniente
X-NUCLEO-IKS01A1, Motion MEMS and environmental sensor expansion board for STM32 Nucleo
Description
The X-NUCLEO-IKS01A1 is a motion MEMS and environmental sensor evaluation board system.
It is compatible with the Arduino UNO R3 connector layout, and is designed around STMicroelectronics' LSM6DS0 3-axis accelerometer + 3-axis gyroscope, the LIS3MDL 3-axis magnetometer, the HTS221 humidity and temperature sensor and the LPS25HB* pressure sensor.
The X-NUCLEO-IKS01A1 interfaces with the STM32 microcontroller via the I2C pin, and it is possible to change the default I2C port.
Key Features


LSM6DS0: MEMS 3D accelerometer (±2/±4/±8 g) + 3D gyroscope (±245/±500/±2000 dps)


LIS3MDL: MEMS 3D magnetometer (±4/ ±8/ ±12/ 16 gauss)


LPS25HB*: MEMS pressure sensor, 260-1260 hPa absolute digital output barometer


HTS221: capacitive digital relative humidity and temperature


DIL 24-pin socket available for additional MEMS adapters and other sensors (UV index)


Free comprehensive development firmware library and example for all sensors compatible with STM32Cube firmware


Compatible with STM32 Nucleo boards


Equipped with Arduino UNO R3 connector


RoHS compliant


Photos
What's Onboard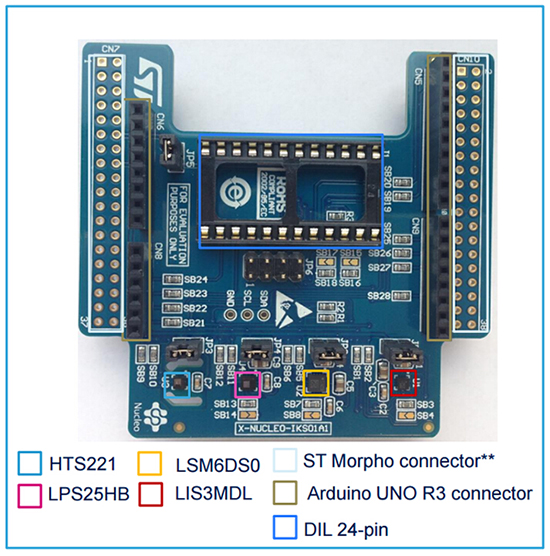 Block Diagram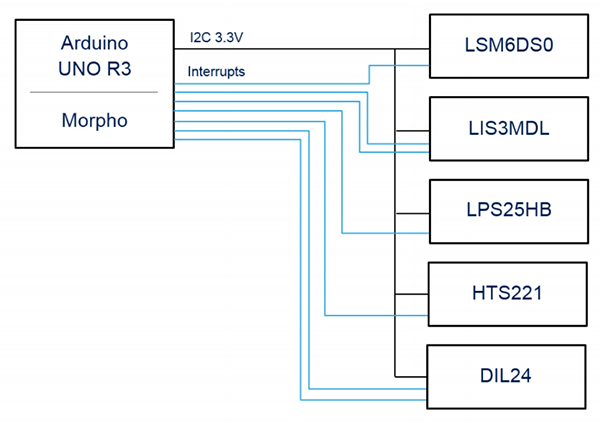 Development Resources


User manual


Schematic


Demo code


Development software


Wiki : www.utsource.net/wiki/X-NUCLEO-IKS01A1
Montenegro

All great!

0451015.MRL,1218

Bosnia and Herzegovina

Well packed, slow delivery this time!

TPS5432DDAR,STRA6151,KA7553,FAN1587AD33X,AZ1117H-2.5TRE1,AZ1117H-1.8TRE1,AZ1117H-3.3TRE1,W25Q32BVSIG

Czech Republic

Fast delivery and everything nicely packed.
I look forward to further orders in this e-shop.

IR2184

India

Item received in good condition. UTSOURCE is the reliable source for all electronic components.Thanks

6MBP100RTA060,6MBP100RTC060
Método de pago
Método de pago internacional
Paypal US $0.00

Credit Card US $0.00

Amex US $0.00

Wire Transfer charge US $15.00 banking fee.

Moneygram US $0.00

Western Union US $0.00
Método de pago europeo
Sofort US $0.00

Eps US $0.00

Sepa US $0.00

onlinebetalen US $0.00

Bancontact US $0.00

Mybank US $0.00

YandexMoney US $0.00

QIWI US $0.00

WebMoney US $0.00

Dotpay US $0.00

P24 US $0.00

Payu US $0.00

Turkish Credit Bank Card US $0.00
Método de pago americano/asiático
Boletol US $0.00

Itau US $0.00

OXXO US $0.00

Banamex US $0.00

Bancomer US $0.00

Santander US $0.00

Spei US $0.00

Paytm US $0.00
Embalaje
Paso1:Productos

Paso2:Ponerse en el tubo

Paso3:Embalaje antiestático

Paso4:Caja de embalaje

Paso5:Etiqueta del código de barras del transporte